For me this was a Grand Canyon rafting experience like none ever before.  Our habit was to get up at 5AM or before, cook and eat by headlamp and be on the water by 8AM to get to whatever exploration was on the itinerary.  We carried the gear for 24 participants, the extra 8 coming onto the trip in exchanges at Phantom Ranch (4) and Havasu Creek (4). It seemed like a logistical nightmare, but I was there to support the effort, surrendered to all that made little sense to my rafting self.  By the end of the trip my small efforts to bring these energetic canyoneers to the dark side of relaxation were felt enough to be referred to as Darth, the great tempter.  In the end, there was a convert or two 🙂
No shit, there I was, at the top of a 400 foot waterfall, trusting that by keeping my focus on my foot placement and the braking mechanism that I would be fine.  Garden Creek was only my second slot canyon experience, the first one being just four days before.  The experts said I could do this, and, I innocently believed them.
Now a month into my "recovery", this neophyte canyoneer is feeling very committed to never doing that again!  Not because it was unrewarding or anything less than spectacular, but because it takes a shitload of energy….. energy which I no longer have.  That, of course, implies I once did.  These people are truly animals, possessing some kind of bighorn gene.  They climb the nearly unclimbable on rock that is well on its way to sand.  They ascend thousands of feet, either before or after descending those same thousands on ropes and various forms of mutual assistance which give the illusion of safety.
I said yes to Rick's invitation knowing enough to have known better.  But again, I must emphasize that I am happy I went. And yes, I would NEVER do it again.  Never did I suspect that I could muster up the energy to do a 20 mile backpack in this kind of terrain, off trail, in two days.  Where did that come from?
On the first overnight trip we covered about 16 miles and I sprained an ankle about a mile into it.  Oh, it was just a tweak I thought as the continuing walk up canyon caused only very mild discomfort.  By the end of that day I needed to tell the leader, Rich, that going any further to look for a better camp could lead to some real problems for me (and thus the group).
I worried that taking my boot off for the night might lead to a very swollen and unmanageable situation in the morning.  Luckily with a good strong dose of vitamin I, I was able to get into my boot and tough it out back to the rafts, though every step of the last mile or so was quite painful.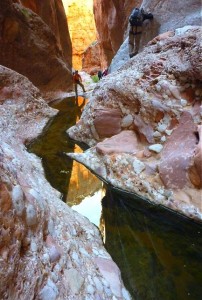 The slot canyon (East Arm of Tuckup) known as Hades Knoll was fantastic!  Rich called it the longest slot in all of the Grand Canyon and it was not too difficult with moderate rappels of 50-60 feet or less and a lot of challenging down climbing for which my long legs really came in very handy.
There were eleven of us and I was the weakest and least experienced, but everyone seemed to be watching out for me, from above and below.  I never felt fearful.
I have rafted the Canyon eleven times and the river is my friend.  Experiencing the Grand Canyon from above and deep within the slot canyons was a completely unique experience for me and it could only have happened with the kind of encouragement and support I got from those around me.
I discovered a deeper will during these challenges, something I never seriously identified with before.  There was some courage needed, but it was more an issue of trust and willingness….. an embrace of the adventure.  There is no denying the passage of time and the aging of the body.  The old saying that the Spirit is willing but the flesh is weak seems more true than ever before.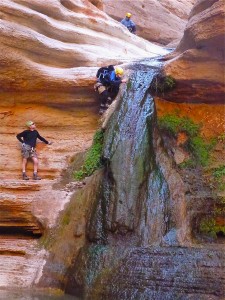 As I look at my still swollen ankle every morning upon arising, I wonder if my body will ever be the same as it was two months ago?  I am beginning to suspect not and that is the set up for the next adventure into the unknown.